This blog comes from our partners in Ghent (Greentrack Ghent and its partner city of Ghent (Environmental and Climate Department) and artist Anyuta Wiazemsky Snauwaert), who travelled to Sweden with the rest of the Cultural Adaptations team in November 2019 for the second transnational meeting of our European project.
Cultural Adaptations is a project with two strands: on the one hand it takes a closer look at how the cultural sector itself can adapt to climate change, and on the other hand it experiments with the roles the cultural sector – and more specifically artists – can play in working on climate adaptation.
The four partners in this project (Creative Carbon Scotland, Axis Ballymun, TILLT and Greentrack Ghent) each collaborate in their own city (Glasgow, Dublin, Gothenburg and Ghent) with a non-cultural "adaptation partner" and an artist. The artist is embedded during a certain period in that adaptation organisation to contribute to their work on climate adaptation. This can range from a specific adaptation project to vision or strategy development.
That's how they do it in Sweden

In Gothenburg we were introduced in the practice of the cultural organisation TILLT, their adaptation partner City of Gothenburg and the artist Ulrika Jansson.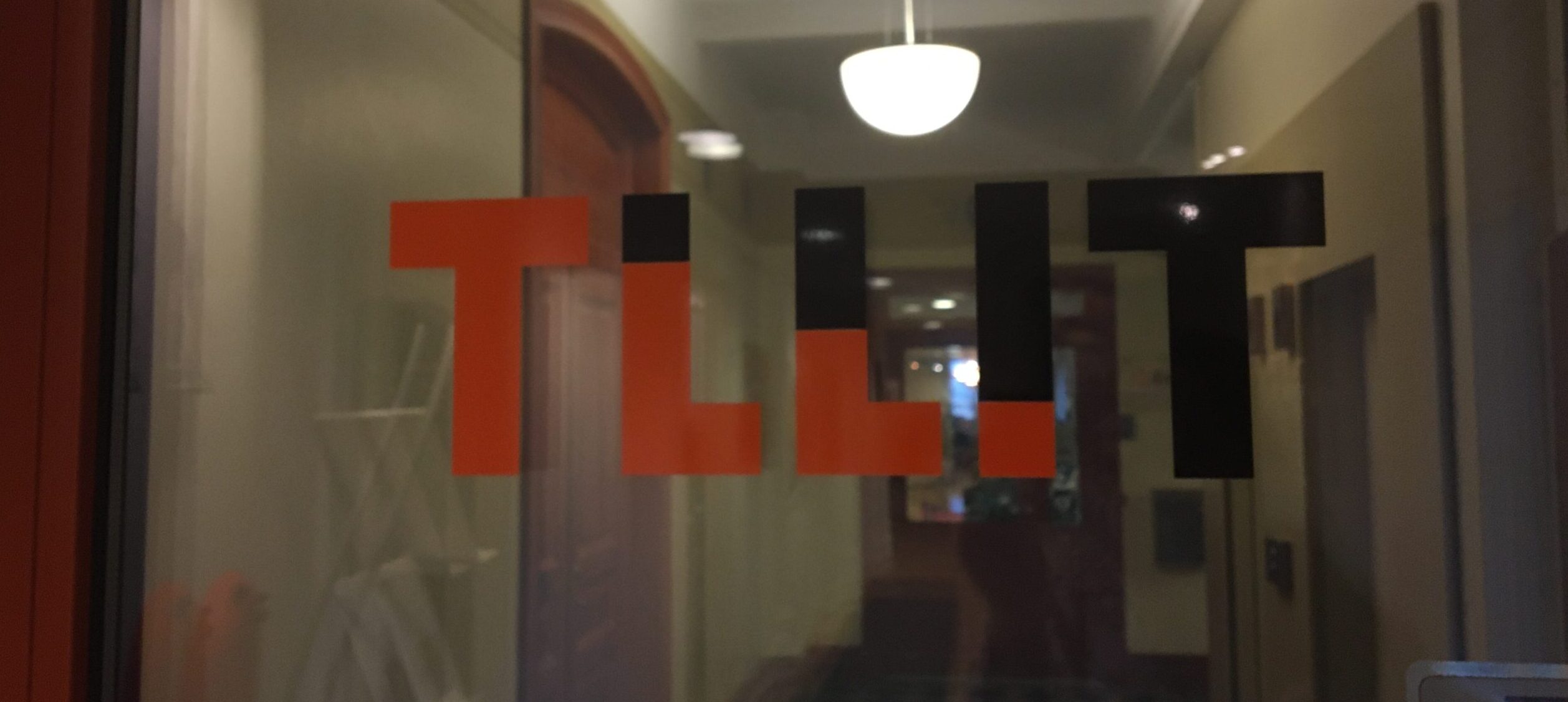 TILLT is an organization that aims to contribute to a sustainable society through art. They set up projects around societal challenges and work together with partners from both social and business contexts. In each project they connect an artist with a partner, whereby that artist is embedded in that partner organisation for a certain period – ranging from a few weeks to a year or more. The goal is for the artist to contribute to the actual work process of that partner organisation or company from his or her own artistic experience, expertise and ways of thinking.
TILLT coaches both the artist and the partner to keep the exploratory process open for as long as possible. The cross-fertilization between artist and partner usually becomes more concrete and often ends in artistic work or another concrete outcome. However, the main purpose of embedding an artist remains the cross-fertilization and the process itself, and not a specific artistic creation. TILLT regards artists as "creative engines" that can lift working on societal challenges to another level. The main challenges they currently focus are integration and inclusion, global warming, gender equality and elderly care. For each theme, a process coach is responsible to guide both the artists and the partners in the process.
Rain Gothenburg
For Cultural Adaptations, TILLT chose the City of Gothenburg Sustainable Waste and Water Department with the project Rain Gothenburg as their local adaptation partner.
Rain Gothenburg is a project that focuses on everything that has to do with rainwater and poses challenges for the city. This ranges from water collection and drainage during normal rainy weather but also during 'super storms' (also known as '100-year storms', '1000-year storms' …), from solutions for subsidence of large pieces of reclaimed land around the river (Gothenburg was originally situated by a lake, a large part of which was filled with sand in order to build on it), to turning Gothenburg into the world's best city when it rains.
Rain Gothenburg considers rain as an asset to improve the cultural, human, social and aesthetic life in the city.
Adaptation Challenges in Residential Areas
Rain Gothenburg as a project is confronted with several challenges concerning climate adaptation and they have various projects in progress. For Cultural Adaptations TILLT and Rain Gothenburg wanted to focus on a residential project by the urban project developer Poseidon.
Poseidon provides housing for the inhabitants of Gothenburg and therefore plays an important role in long-term urban development. One of their construction projects is located in Brämaregården on the "island" of Hisingen, a piece of reclaimed land across the river and north-west of the city center.
When making a city more climate-robust, it is important to make such players in urban innovation aware of the consequences of climate change and the importance of long-term thinking and creative, innovative urban development and their own role in it. Rain Gothenburg wants to encourage Poseidon to deal creatively with the climate challenges and the amounts of rainwater in Gothenburg in their construction projects, and to integrate climate adaptation into their urban development projects. They considered Brämaregården to be an ideal pilot project for working with an embedded artist.

Creating a project with embedded artist, Ulrika Jansson
For this project in Brämaregården, TILLT chose to collaborate with artist Ulrika Jansson, who also had previous experience of working as an embedded artist. Ulrika wanted to encourage Poseidon to take a broader view on the climate challenges and to explore other paths than the obvious ones.
Ulrika studied the area and started conversations with local residents. With all the information, ideas and stories, she returned to the table with Poseidon. Through sensory and participatory workshops, she introduced them to the environment and the community in other ways. Both Ulrika and Poseidon then sought together how they could incorporate these experiences and knowledge into their design for the garden and the green area around the building. The final design for the site by the Poseidon design team went far beyond their regular solutions and did incorporate answers to the challenges of climate warming and excess rain water.
The basis for working with embedded artists
In working with embedded artists it is tempting to focus on the end result: a possible work by the artist or, in this case, a joint design (by Ulrika and Poseidon) for the garden of a residential complex that pays attention to the community's wishes, to delaying water collection and that refers to the surroundings (a mosque, a rock with a story from the past, …).
But an important part of the work plays well before that, right from the start. The many conversations to convince Poseidon of the added value of working with an artist, and the many exchanges between Poseidon and artist Ulrika Jansson to gain trust, understand each other's work and the complexity of project development laid a foundation of curiosity and openness go on an adventure together. Once the connection is anchored and both parties trust each other, the design process unfolds automatically. With that solid basis, both partners can each work from their own strength and apply those strengths in the process.
Poseidon has technical knowledge and experience with the development of entire neighborhoods, Ulrika effortlessly draws on her artistic experience to approach assignments from a variety of perspectives and to continue to challenge herself to explore new paths. Through mutual trust, they find each other in their expertise and the combination leads to new routes and innovative designs. The long period of mutual "sniffing" and building trust led to Poseidon being so enthusiastic about the collaboration and deciding to continue working with her.

Next steps for the Cultural Adaptations Embedded Artists
These are a few thoughts so far in the Cultural Adaptations embedded artist project that runs until the beginning of 2021. TILLT, City of Gothenburg (Rain Gothenburg) and Ulrika Jansson opted for a short-term three-month project. As a result, Ulrika was the first of the four artists to complete her embedded artist project and we were able to make these intermediary conclusions. The other embedded artist projects – by Anyuta Wiazemsky Snauwaert (Belgium), Lesley Anne Rose (UK) and Maeve Stone (Ireland) are still ongoing.